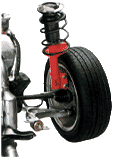 Handling
My Objective
a good balance between performance and comfort
high reliability
low cost
The Plan
Front Stabilizer Bar
With the Legacy's extremely low center of gravity, the original front stabilizer bar is more than sufficient. I checked the bar diameter with a Verner caliper and it is the same diameter as the stabilizer on the Turbo Legacy and the 2.5GT. There is no point in swapping it.
Rear Stabilizer Bar
My car is equipped with the PW option package which does not include a rear stabilizer bar. So last year when I was living in Montreal I drove to down to Junction Sube in New Haven Junction, Vermont. Junction Sube has scrap parts from just about every Subaru model made. I purchased the 18mm rear stabilizer bar and all mounting brackets and parallel links for $100US. All the parts were off a Legacy Touring Edition LE (turbo wagon). The same hardware is used on the Turbo Legacy sedan and also the '93 and '94 LS and LSi wagons equipped with air suspension.

Struts
I replaced the worn struts with KYB GR2 struts. $390US shipped from Shox.com. The GR2's are about 20% firmer than the stock struts, and seem to be a perfect compromise between performance and comfort which I require. KYB struts have a lifetime guarantee as well!
KYB now has adjustable struts and they are called ASX. Had they been available at the time I would have installed them instead. They are available for the Legacy and are less than $500US for a complete set (4). The ASX struts feature a five position valve to vary the dampening force and rebound.
Springs
I replaced my springs with a set of H&R OE Sport Springs. They cost $247US, also from Shox.com. Like the GR2 struts they are a perfect compromise between performance and comfort. The springs are progressive rate, and only lower the car by about one inch. I did not want to lower my car at all as I do some mild off-roading, but these were the "tallest" springs I could find.
Several other spring sets are available and I choose to avoid them:
Eibach: great springs, but simply too expensive for my needs, available from SPD
Intrax: lowers the car by 1.75 inches, which is too low and leads to camber problems on the rear axle, available from JC Sports
Wheels
My local dealer's loaner car was a 1992 Turbo Legacy Sedan until a customer had a serious accident with it. I purchased the 15" x 6" six spoke wheels from it. Any 15" or 16" alloy wheel from any Subaru will fit. 15" wheels have the advantage of requiring much less expensive tires, and do not sacrifice performance as much as many shops may lead you to believe (a good 15" tire is less expensive than a bad 16" tire, so better performance for less money is possible!).
In winter I use my original 14" steel wheels.
Tirerack has several different types of wheels that will fit Subaru's:
Team Loco wheels in 16" for $147US and 17" for $167US
OEM Subaru 5 spoke 15" wheels (used on 1995 to 1997 LS models) for $85US and $11US for the centercaps
For reference the Subaru wheel dimensions are:
5 x 100mm bolt pattern
56mm centerbore (hubcentric)
+45 to +55 offset (extremely important to adhere to this requirement or poor handling and blown wheel bearings will result)
12mm x 1.25 thread size on wheel nuts
Tires
In Summer I am now using Yokohama AVS S4-V tires. They are available from Tirerack for about $70US. I have not had them long enough to give a complete review on them, but so far I have found them to have excellent traction on both dry and wet roads. Only complaint so far is road noise.
In winter I use Yokohama S380's. They are fantastic in snow and surprisingly good on ice considering they do not use the new multicell compounds (such as Blizzak, or Guardex). I now have at least 50,000km on them and more than half the tread depth is left, and the wear is even.
Current Status
All work is complete.
The Results
All objectives were met to my satisfaction. The car is superb in corners, stable in high speed lane changes, and crosswinds have much less of an effect than before. Ride comfort is much better than I expected.